Zillow Offers has arrived in the Cincinnati real estate market. What is it, and how could it impact you when you go to sell your home?
The commission a real estate agent makes on the sale of a home might seem like a lot. If your agent isn't staging your home, using professional photography, and bringing vast market experience and strong negotiating skills, then you might not be getting much value. However, if you are getting those services from an experienced professional, consider this:


"Zillow charges the seller a fee of about 7.5% on average, which is notably higher than the traditional 6% commission a seller pays to realtors." - CNN
So what exactly is Zillow Offers? Essentially, within 48 hours, Zillow will give you an offer to buy your home, and closing could occur weeks to months later. This offer is primarily made using an algorithm, since Zillow believes it has enough online data to price your home. In an area like Liberty Township, in a large subdivision, Zillow might have enough comparable home sales to use to compute their offer with some degree of accuracy.
However, if you own a home in Hyde Park with widely varying architectural styles and prices of homes, the offer could be based on non-comparable properties. A dedicated, experienced real estate professional would be significantly more qualified to give you a true Market Value for your home than Zillow's computerized pricing model.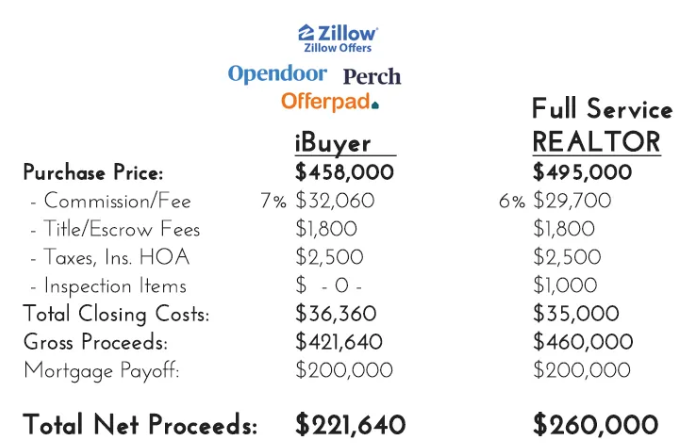 Once you have a Zillow Offer in hand, that isn't the end of the process, so don't start packing yet! Next, Zillow will send an employee (NOT a licensed professional) to do an evaluation of the property and will likely then "correct" the original offer based on their opinion of the home. What was once the possibility of an easy exit strategy and quick sale might very well not be. You may now be facing the potential of costly repairs to your home that Zillow has deemed necessary in order to complete the purchase.
Zillow may also then introduce you to a "Zillow-approved" listing agent to list your home if you choose not to take the Zillow Offer. However this agent can only start to market your property after you make those costly repairs, or you could choose to leave the property as-is and disclose all defective items to any potential buyer, resulting in a lower sales price. A Zillow Offers agent is working off a reduced commission scenario through Zillow. This agent is likely lacking the experience and market knowledge to best guide you through this transaction and get you top dollar.
In a more typical sale, those Zillow-required repairs may or may not be necessary to complete your sale. In the Cincinnati market, we are currently experiencing a market of historically low inventory. Our team has been successfully negotiating multiple offers on our listings and, as a result, we are helping our sellers avoid either property inspections or strongly negotiating to save you money on any requested repairs.
If you want to say "No way!" to a LOWER sales price and LOWER net profit from the sale of your property, call us today. Let us show you the difference our professional representation can provide. We can make the sale of your home easier and more profitable than Zillow or other iBuyer programs can!